Who is The Best Email Hosting Provider UK in the Market: Top 6 Picks
The question of who is the best email hosting provider UK is tough to answer. The thought process when you are choosing the one for your business must incorporate several aspects.
A professional custom email address is critically important for any business. According to surveys, 75% of customers take it as a strong trust signal. They trust it much more than a regular email address.
This post from The Email Shop will enlist five great hostings that deserve the title of professional email hosting UK. That is not all. We will examine their good and bad points and discuss characteristics that help you identify good business email hosting services.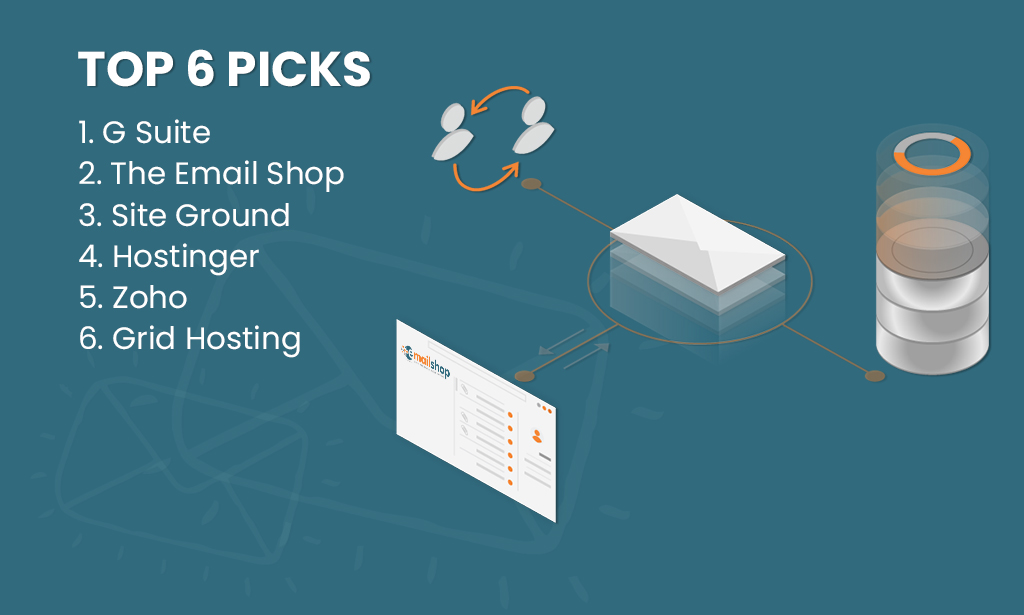 What Makes the Best Email Hosting Provider UK?
The list may never end since there are a lot of factors that contribute to building the reputation of any hosting provider. To be precise, it has to be easy to use, come with integrated services, compatible on various devices, budget-friendly, and add extra accounts.
Best Email Hosting Provider UK: Six Best Names
Many hosting companies are in the market. You may find many names just with one Google Search. However, we intend to tell you about the five best entries before you fall into the trap of any cheap email hosting.
1. G Suite
G Suite is a renowned email hosting solution from google. The general public knows it well, and business owners love it. In addition, if you have an existing website, it will let you create a custom email address.
G Suite basic starts from 4.6 euro monthly per user, 30 GB of cloud storage, 24/7 support. Moreover, you get integration with Google docs and all other Google services. Seamless integration between desktop and mobile devices is another plus point. G Suite is the second-best email hosting for small business uk after Grid Hosting, which we will discuss later.
2. The Email Shop
The Email Shop makes the best UK email hosting. Their business-class email hosting packages are designed to provide security and safety. Setup is quick, the interface is easy to use, and protection is adequate. In addition, The Email Shop offers exclusive email hosting plans at an optimal discount. You may use it as personal email hosting or business email hosting, and programs are available for both.
All contracts are customer-oriented and come with ultra-high speed and excellent security. Experts guarantee 99.9% uptime. Thanks to super-fast data centres in the UK.
Create a personalized address to look trustworthy and professional to people. Emails will be synchronized all the time, no matter if you are working on a PC or mobile device. Access emails from anywhere very quickly. For a more streamlined experience, download iPhone or Android office apps.
There is built-in spam and virus protection to keep you safe from online threats. Moreover, there is enough room to store anything. An expandable 5-25GB on 123 Reg Email Hosting packages and 50GB for Office 365 packages are available.
The Email Shop is an excellent one-stop solution. They even offer a website builder. Build a responsive, scalable, and gorgeous website.
The business premium plan provides an unlimited number of email accounts. The Email Shop is the email hosting you should never miss if you look for the cheap and best email hosting.
3. Site Ground
Let's talk about Siteground now, which also deserves the title of best email hosting UK. SiteGround is another one-stop-shop provider that gives new users a free .co.uk domain, 10GB storage, and 10,000 monthly visitors. In addition, their email hosting services show unmatched performance and reliability, just like their web hosting services.
You can create unlimited personalized email accounts as well as a host of third-party solutions to enable a smooth, spam-free, and fast email service. In addition, all plans come with free website hosting of at least one website.
SiteGrounds beginner plans have their internal webmail interface with email forwarders and autoresponders.
4. Hostinger
Hostinger is known for its cheap web hosting service and provides up-to-the-mark email hosting services. Even the starting plan provides you with the generous 10GB storage, two mail filters, 50 email aliases, antivirus check, and multi-device support.
Signing up for Hostinger will also give you a free domain. Access your emails from any device at any time. Hostinger is a good solution for personal websites, blogs, and even small businesses.
Hostinger provides excellent support 24/7. Social media integration is one of the primitive pros of Hostinger. Moreover, Hostinger provides free email migration.
Antivirus checker makes sure you and your business website are not swimming in any dangerous waters. More pros are HTML mail templates, multi-device support, and Cloudmark email protection.
5. Zoho
Zoho is one of the most incredible options if you have a few domain names and want an email address for a campaign. Zoho is famous for being incredibly cheap and offers bulk user plans. Paid options are also feature-rich.
There's also an iOS and Android app available for the web client and calendars that are intuitive and minimalist. Overall, Zoho is a well-rounded email hosting provider worth referring to as the 'best email hosting provider uk.'
6. Grid Hosting
Top speed, unmatched security, reliability, and diversity are the values of Grid Hosting. It is globally trusted, fast and secure web hosting, which provides fantastic email hosting services.
Professional email hosting services of Grid Hosting come with a user-friendly and intuitive control panel. As a result, a wide array of tasks become very smooth and easy to perform. This excellent email hosting UK brings a range of solutions, including an online hosted exchange server, Microsoft Office 356 email hosting, and POP 3 & IMAP emails. Services are simple, private, and safe. Thanks to significant viruses & spam filters built by experts of information security with decades of experience.
The system ensures that users stay safe from all kinds of online threats and malicious actors. Security teams monitor, edit, and update the techniques regularly.
Also, Grid Hosting provides you with an autoresponder that sets up your message and sends it when you are away. Other core features are domain-based email, unlimited space per account, and domain privacy.
Putting It All Together
What is best for you depends on your scenario. Your business is no exception. The 'best email hosting provider UK' can be different for different companies. But our recommendation, backed up by critical analysis of our experts, is Grid Hosting.
Feel free to reach out to The Email Shop team if you want to know more about the subject.