Best Cloud Hosting for Small Business: Benefits & Three Important Picks
Why is everyone talking about the best cloud hosting for small business? Are they worth it?
Well, yes, cloud hosting has changed the hosting industry for the better. It allows for increased reliability and resilience for clients. Specifically, small businesses are inclining towards cheap cloud hosting more and more.
This post from The Email Shop is a must-read if you are interested in two questions:
Why is a cloud-based server for small business a viable idea?
Which companies provide the best cloud hosting for small business?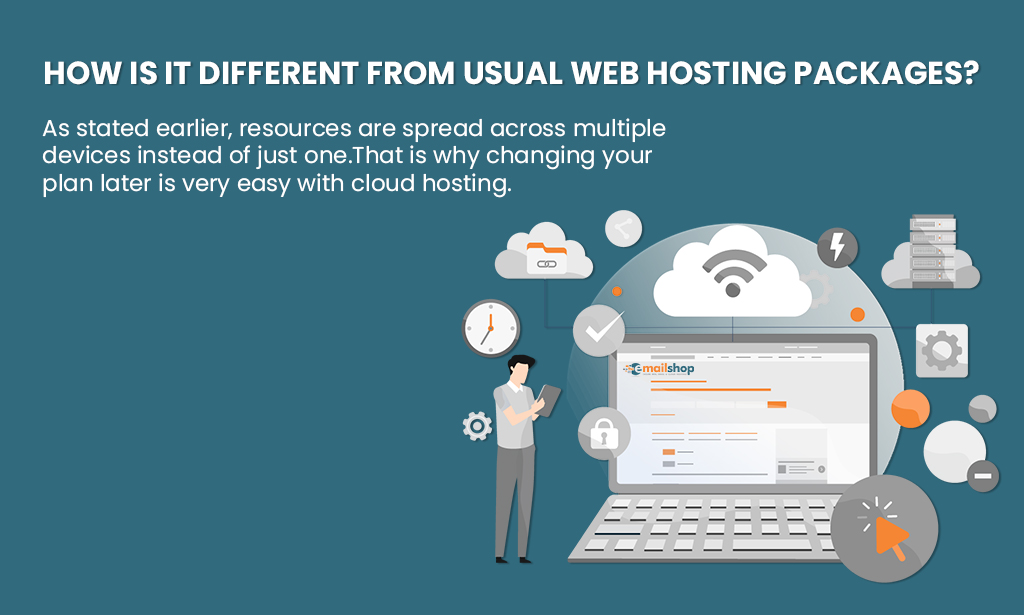 Why It is Worth Time & Effort to Find Best Cloud Hosting for Small Business?
What makes cloud hosting an excellent option for small businesses? Precisely, the benefits are reduced infrastructure costs, increased uptime, and reduced amount of time spent managing servers.
Let's discuss two significant advantages before discussing the best cloud hosting providers.
1. Less Infrastructure Costs
Every small business owner understands the importance of cost management and delivering a reliable product or service to your customers. Cloud servers help any business meet this goal because of their excellent scaling capabilities.
For example, you can start with 1GB of RAM and upgrade to up to 128GB of RAM without any hassle of switching hardware or experiencing lengthy downtime. Moreover, small businesses can deploy servers without expensive up-front hardware costs.
2. Better Uptime
Small businesses can increase the uptime and performance of their websites with Cloud hosting. Website speed and performance are one of the critical factors for small businesses.
Every cloud instance is set up on redundant hardware. As a result, a single failure on networking, CPU, memory, or disk space will automatically move your website to a better and healthy server. Hence, it manages to prevent downtime without requiring any intervention on your part.
Cloud hosting providers set up their servers in secure data centres to ensure 24×7 monitoring for any physical intrusion, environmental threats, and more.
How Is It Different from Usual Web Hosting Packages?
Sign up on a simple web hosting package, and you get a defined block of resources on a single server. Hereafter, you register your domain name, choose this much web space, that much bandwidth, and maybe a set amount of RAM or CPU cores.
Having fixed resources sometimes creates problems for larger projects. For example, there's no way to temporarily allocate extra RAM or bandwidth if you experience a sudden traffic surge. Even a simple plan upgrade might require your website to go offline for a while.
As stated earlier, resources are spread across multiple devices instead of just one. That is why changing your plan later is very easy with cloud hosting.
How to setup a cloud server for small businesses?
Getting started with the best cloud computing experience is a straightforward two-step process. First, create your account, and then start deploying servers. It is as simple as that.
Best Cloud Hosting for Small Business: Top Three Picks
Rather than dwelling on strict cloud hosting price comparison, we would discuss the features of all companies.
1. The Email Shop
The Email Shop is the leading provider of cloud services. The organization provides cloud hosting for both web hosting and server hosting. Business-friendly cloud servers capable of full-proof security and impeccable technical support make The Email Shop the best cloud hosting for small business.
Grow your business or brand with Self-intuitive and healing cloud server. It is fully customizable and allows you to integrate many other applications seamlessly.
The dedicated and shared firewalls ensure enhanced security that comes with outstanding spam detection and prevention. In addition, the customized cloud solutions of The Email Shop are compatible with multiple content management systems.
The basic plan starts from 3.66 £ and offers 1 V CPU Cores, Intel Xeon with HT Technology Processor, 15 GB SSD Storage, 1 GB RAM, 10 GB Bandwidth.
Linux-powered servers for web hosting come with relaxing price tags and a developer-friendly interface. The best features are excellent support, 100% uptime, SSD disk drives, intuitive cloud manager, and high-quality processors.
Let your imagination run wild with a website builder, and make dynamic and engaging web pages that bring leads. Plesk Control Panel helps you manage your server or webspace's technical aspects compactly.
There are nine pricing plans, all for an initial one year. You have to pay even less than three euros per month to start with the same basic plan.
Windows Cloud Web Hosting
The Email Shop also lets you run your servers with Windows operating system. You can pick up one from numerous versions of windows cloud servers as per your need.
Leverage the eCommerce-friendly program to set up your online shop with zero downtime guarantee and efficient scalability. It even supports ASP.Net websites.
2. Grid Hosting
Grid Hosting provides a fully managed cloud server that shows the ultimate support and incredible flexibility. In addition, it is the fastest cloud hosting in the market.
Choose your agile cloud infrastructure and reduce high costs while boosting scalability and reliability. Grid Hosting cloud hosting sets you free from the tensions of managing IT infrastructure and gives you the peace of mind required to focus on your core business operations.
Grid Hosting gives particular emphasis on information security. To help your server meet the business needs securely and not let intruders check your confidential data, they provide advanced protection and customization solutions.
Also, Grid Hosting is an optimal private cloud hosting solution. They ensure private connections to networks.
With 50% off, you can also find dedicated cloud servers for even less than five euros per month. Powerful Control Panel, full root admin access, and SSD storage drives are the best competitive edges.
3. Cloudways
The company offers managed cloud hosting UK, and you can choose any top provider to empower it from Amazon, Google, DigitalOcean, and Linode. Cloudways seems to be a middleman between enterprise-level cloud hosting providers like Microsoft and IBM and simple, user-friendly products like The Email Shop or Hostinger.
Cloudways comes packed with features yet is configured from a simple web console that is as easy to use as the more basic competition. They cover all your core performance needs, for example, one-click cloning, backup and restore, integrated Git and team collaboration tools for developers. In addition, there are no less than 25 data centres around the world.
The basic plan provides you one core, 1GB RAM, 25GB storage and 1TB of bandwidth for £ 7.15.
Putting It All Together
People may have different opinions about the Best Cloud Hosting for Small business. We have enlisted our top three picks. Now it is your turn to opt for anyone after your due diligence.
Feel free to reach out if you want to buy our cloud hosting services or need to understand some points from this write-up. The representative of The Email Shop will get back to you in a short time.