Best email and web hosting for small business uk: Why Use Them?
There is no right & wrong answer when picking the best Email and web hosting for small business uk. Choosing a web and email hosting provider is one of the tough decisions to make when you launch your online business because there are dozens of providers out there.
However, the scope of this article from The Email Shop is not to specify the qualities of the best web hosting for small businesses.
Some businesses prefer the same host for both website and Email, while others use different hosting providers for each. Which one of them is better depends on your requirements. Therefore, a definitive answer does not exist.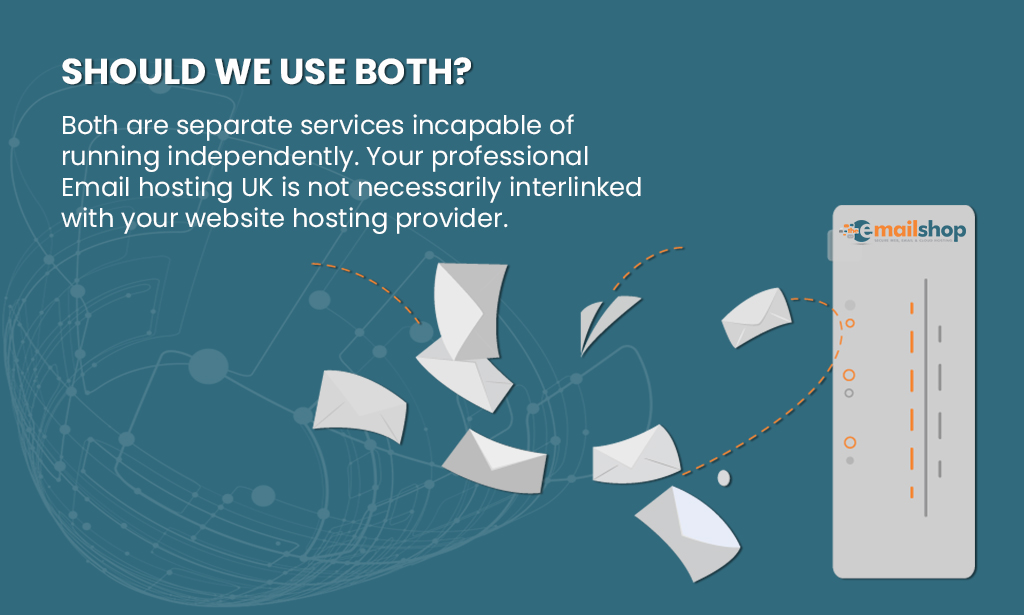 This article will discuss what makes it suitable to find the best Email and web hosting for small business uk, or why use the same host for both web and email.
Difference Between Web Hosting and Email hosting?
Amid hundreds of providers offering combined plans, fundamental differences become hard to assimilate. However, here is a quick summary of what both services are.
Email Hosting
A service that allows a business, organization, or individual to post their website online so the public can view it on the Internet. A web host allocates a business space to store your files on the web server, so your website is active and accessible online.
Web Hosting
They rent out email servers to you. An email host allows businesses to use their domain name in their email and have their incoming and outgoing emails managed by a dedicated mail server.
Should We Use Both?
Both are separate services capable of running independently. Your professional Email hosting UK is not necessarily interlinked with your website hosting provider.
Email hosting may not be a crucial element of your website, but it has to be an essential ingredient of your business. You can link it to your domain name, regardless of whether the same provider hosts your website or not. Of course, you must find the best web hosting UK 2021 for your website.
Best Email and Web Hosting for Small Business UK- Why Use Same Hosting for Both Subjects
Being one of the most critical tools for small businesses, Email can make a real difference to your success, sales, and customer satisfaction. Cheap email hosting is one of the most common search queries on Google.
Many big and small businesses turn to an email host to optimize their business emails, while some use the same website and email host. We also refer to the latter as bundled hosting.
Using the same solution for both web and email hosting is common but not the only option. Businesses can use different hostings if it aligns with their business use cases. It all boils down to individual business scenarios.
However, figuring out your business use cases if you know the advantages and disadvantages of using the same host for Email and websites will be much easier. Your ideal business web hosting must fulfill your requirements.
If you are using WordPress, your best choice would be the best web hosting uk for wordpress.
Best cheap web hosting UK would be your priority if the price is your only criterion.
Pros:
Setup is simple and easy. You do not have to manage your email on a separate account. You will be familiar with the host and how they operate from how they've handled your website.
It is cost-effective. Web hosts provide email as a part of the deal, so you get to use booth service at a cheaper rate. Using separate servers will take a toll on the budget.
You can host multiple emails. Some services let you host several small email accounts for one fixed price as part of their web and email bundle.
Many small businesses use finding it best for them. They have less workforce and finances to split the services between two providers. If the domain is your priority you may try to find the best domain and email hosting for small business.
Cons:
It consumes your website space. All your inbound and outbound emails and any attachments from your correspondence are stored on the same account. This data eats up a big chunk of bandwidth going towards your website.
The website completely shuts down if the server fails. You become vulnerable to total blackout. Clients won't be able to contact, and that could lead to severe financial losses.
It is not feasible for big enterprises. Bigger businesses need more database support and higher server configuration. It is too taxing for most shared hosting bundle packages.
Changing web providers would require lengthy email migration. If you want to move your website to a different server, the process is much trickier if you're using the same host for your email.
Website migration is relatively easy, but email migration could turn out to be daunting and challenging, especially for those who are not conversant.
Why Business Opt for The Best Email and Web Hosting for Small Business UK
Most businesses still prefer to use the same hosts for both services because they are not fully conversant with the world of hosting. In addition, they want to access their data from one place. Another contributing factor is the tight budget. Their priority is cheap unlimited hosting for both email and web.
In the past, using two different services required IT staff and extra-human resources to run in-house mail servers. Smaller businesses did not have enough resources.
The introduction of cloud services may have alleviated the staff requirements as the running of Email can now be manned digitally. Yet, it hasn't made the option of using separate hosts completely viable for most small budget businesses.
Running an email account through a separate host is always more expensive than a shared hosting bundle deal. As a result, many new and small businesses still use shared hosting in their start-up days.
The Final Verdict
Setup becomes straightforward by using the same website and email host. Partnering with the best email and web hosting for small business UK, organizations can save money. These organizations also provide attractive bargain bundle deals. Technical aspects of things also are not your headache.
Are you looking for a high-tech email service and have the budget that it needs? If the answer is yes, then you should use two different services for web and Email.
We hope that this post from The Email Shop helped you understand the benefits of using the same host for web and Email. If you find any concepts challenging to grasp, feel free to share them with us.