When and Why You Should Find Cheap VPS Hosting UK for Your Business?
Every day many people choose virtual servers to take their business online. They want "cheap VPS hosting UK" because they work almost like a dedicated server but require less capital and ongoing expenses. Your business needs a more controlled and risk-free server. If you buy VPS hosting, you have made a wise choice.
This post from The Email Shop will explain why and when you should find the best VPS hosting UK.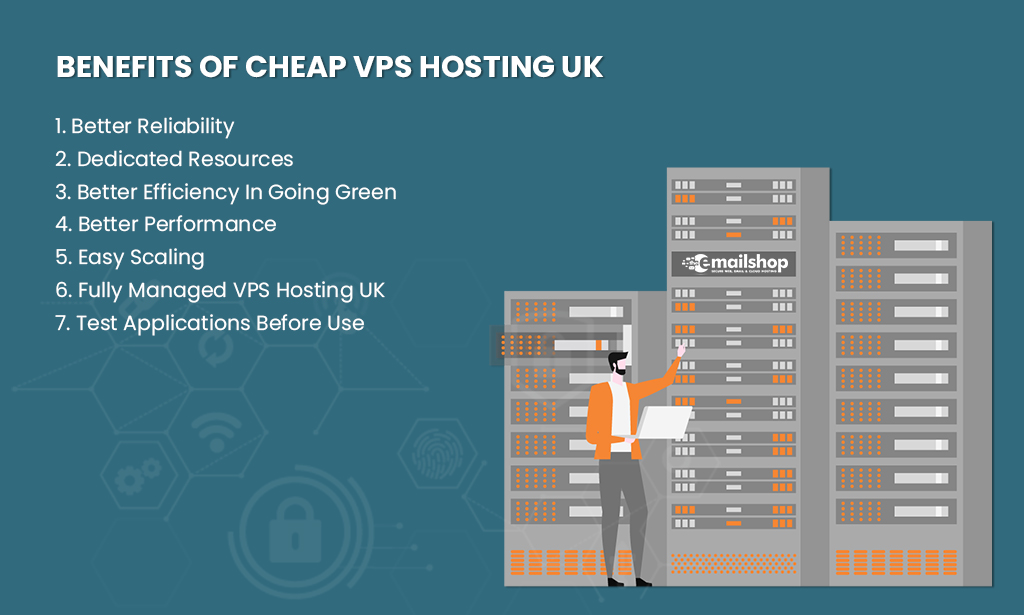 Benefits of Cheap VPS Hosting UK
VPS Hosting grants you complete control of the domain and comes with a lot of unique features. You may find the same features in dedicated servers, but VPS Hosting is more budget-friendly. While the primary reason for fame is VPS Hosting price, there are many other factors as well. Let's take a look at them.
1. Better Reliability
When you are using shared hosting, only one lousy user is sufficient to crash the server. Your website's uptime and overall performance will also not be very good with shared hosting.
VPS Hosting comes with better reliability and stability. The fantastic thing is you do not necessarily have to go for an expensive package. Any cheap VPS Hosting UK will also provide you with outstanding reliability and stability.
Activities of neighbouring websites and domains will not affect when you use virtual servers. The speed and downtime of your business will still be the same if you use the best UK Windows VPS or Linux VPS. Your customers will never face any problem visiting your website.
2. Dedicated Resources
Just like a dedicated server, all VPS resources are only and only yours. The amount of RAM and CPU is also much more than offered by shared hosting. A significant amount allows you to handle much larger traffic and run a high number of apps. All of this is possible without disturbing your budget.
3. Better Efficiency In Going Green
Going eco-friendly is one of the essential needs of modern times. All of us have to play our parts for reducing carbon footprint, and one of the ways we can do this is to do the UK VPS hosting comparison and adopt the one that suits us best.
When you have a dedicated server, you take all the resources that the server offers. Therefore, you are the only business or person utilizing the power consumption of that server.
However, when you choose a virtual private server, a larger dedicated server is divided into multiple virtual environments. As a result, more people share the resources of the actual physical server. Hence it ensures optimal utilization of the server resources.
4. Better Performance
A higher level of performance comes with more dedicated resources. Better capacity and processing power result in your website's pages loading faster.
5. Easy Scaling
Every business grows over time. Therefore, being able to scale the hosting resources without facing any technical issues is essential. If you choose VPS hosting, the environment is hosted in what is referred to as a container.
Based on the package you purchase, a container is allocated a specific number of resources. The best thing about these containers is they can quickly and easily be allocated with fewer or more resources as needed.
6. Fully Managed VPS Hosting UK
Yes, this is a real thing. However, upgrading to VPS does not mean that you necessarily have to maintain your server. Many companies provide managed VPS services.
A good cheap VPS hosting UK will provide hardware & software updates, maintenance, and regular security patches.
7. Test Applications Before Use
The cloud environment lets you test your applications before picking the suitable VPS hosting for utilization.
Also, it is effortless to connect with other remote computers. So to enjoy the best benefits of cheap VPS hosting UK, use the remote desktop.
Different Options for VPS Hosting & How to Find Best:
After understanding the benefits of cheap VPS hosting, it is natural to make a purchase intention. But before that, it would be great to know about the different VPS Server hosting options that can support your business perfectly.
Generally, these three options are available:
Standard: This is a perfect combination of CPU power and memory. If you want an average server, a standard package is the best option for you. The standard option is best for small businesses.
CPU optimized: If you want more power, the CPU optimized Server will be perfect for you. It allows more CPU power and provides more stability to your server.
Memory-optimized: Do you need to run a lot of heavy applications and server files? In that case, opt for the server that will be memory-optimized. They come with more RAM for operating heavy-sized files.
Take the quotation of the different server hosting companies if you select CPU-optimized or Memory-optimized options. Compare the features they provide and check their packages to find the best option.
How to Know If VPS Hosting is a Viable Option For You?
Are you working on a tight budget and want to pay the minimum for hosting? If the answer is yes, then the two best options are VPS Hosting and Shared Hosting. Yes, VPS Hosting may provide a little less stability, security, and speed than cloud and dedicated servers, but it is a lot better than shared hosting.
VPS Hosting allows hardware sharing with other clients but does not allow resource sharing. You have your own virtual space on the server. Of course, the privacy and isolation level is far better than shared hosting.
VPS Hosting is the best option if your website receives a medium level of monthly traffic. But, never miss it if you are looking for a middle ground between shared and dedicated hosting. This is a great solution to keep costs down while maintaining the standards and flourishing your online business empire. Companies provide both cheap Windows VPS UK and cheap Linux VPS UK.
Putting It All Together
Instead of investing heavily in dedicated servers, finding the most appropriate cheap VPS hosting UK is a lot better. For sure, that serves your purpose in a better way. Moreover, you will get a smooth experience of running your website and portals without facing any downtime or slowness.
AT The Email Shop, we offer VPS hosting services with excellent virtual server reliability. Feel free to drop your message so we can discuss your requirements.